Spencer Devon Brewery
This past weekend, I found myself in downtown Fredericksburg around lunch time, with nothing to do. I had gone there it take care of some business, and once completed, I wondered what I would do with the rest of my day. I decided I would get something to eat before I drove home so I began to look for something.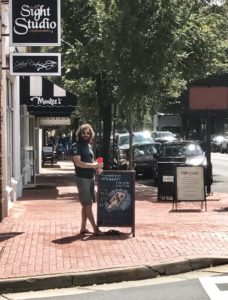 Then I noticed this guy standing on the street corner. He was kind of wild looking, barefoot, leaning on a sandwich board, and drinking from a red Solo cup.
It was at that moment that I knew where I was going. I was headed to Spencer Devon Brewing.
Spencer likes to hang out on the corner next to his brewery, talking to passers by, telling anyone who wants to know about his brewery and how great his beer is. But he is not bragging. He's just stating the facts.
Spencer Devon Brewing is making some of the finest craft beer in Virginia.
Their Northern Neck Harvest Ale is made with locally grown Cascade hops from Northern Neck Hop Farm. It has a wonderful hop aroma, and a lightly fruity taste.
The Fall Line Pale Ale has a citrusy/fruity aroma. It is a beautifully crafted pale ale, not too bitter, with a hint of mango flavor.
Then there is the food. Sliders, pulled pork sandwiches, crab cake sandwiches, and more!
I enjoyed my visit to Spencer Devon Brewing. And if you find yourself in the neighborhood, you owe it to yourself to stop by.