Octoberfest at St. Benedict in RVA!
On Sep 15, 16, and 17th, St Benedict Catholic Church held their 13th annual October fest. There was music, dancing, singing, German food, and of course a huge selection of beer!  Lots of people turned out to enjoy the event and the beautiful weather, including the Governor Terry McAuliffe!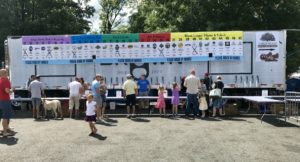 There were a sizable number of Virginia craft brewers represented at this event, offering a wide variety of German style beers, such as Octoberfest, Marzen, Bocks, Wits, Weisse, Kolsch, and Lagers, as well as seasonal favorites such as pumpkin ales. There were also a number of other beers on hand such as pale ales, IPA's, and stouts.  But there were also some experimental/specialty beers such as Licking Hole Creek's Apple Pie ale! By my count there were 53 beers served over the weekend from 18 different Virginia craft brewers, 4 regional brewers, and 4 German brewers. So many beers- so difficult to be responsible.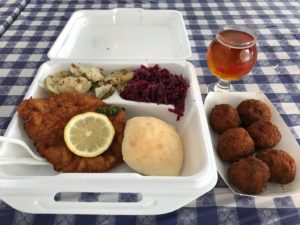 The food was also amazing. Assorted German sausages, Wiener Schnitzel, jumbo pretzels, and more! There was also something they called Sauerkraut Balls, which contained a mixture of sausage, onions, cream cheese (and of course sauerkraut), rolled into a ball and deep fried (it was a beautiful thing!) and then there were the deserts…
This was a great event, enjoyed by all who attended. If you were there, you know what I'm talking about. If you didn't make it out, start making plans for next year. I know I am.