Steins Vines and Moonshine Trail in Prince William and Manassas VA
Prince William and Manassas VA, have created their own trail to showcase there thriving craft beverage industry. With more than 20 craft breweries, wineries, distilleries, and tasting rooms, as well as a number of artisanal and farm to table restaurants, the trail should be on your "Must Do" list.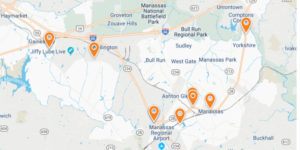 The Steins Vines and Moonshine Trail is close to 17 miles long and beginning in Broad Run, works its way through Manassas before ending in Yorkshire VA. There are, however, several breweries and wineries that are a bit "off" the trail, but are still considered part of the trail. Here is just a suggestion on a rout to take to do the trail. Keep in mind not only your own limits, and the kindness and patience of your designated driver.
The Farm Brewery at Broad Run– As they say at The Farm Brewery, "Come for the beer, enjoy the music, and stay for the bucolic setting" because "Life is Brewtiful!" Over 10 beers and cider on tap, as well as wine and wine slushies. The brewery also features a BrewBarn & Pavilion Beer Garden, and a hop yard. They grow their own fruit, berries, heirloom varieties of tomatoes and squash, melons and peppers, and even have chickens to harvest fresh eggs, and use these farm fresh ingredients in their seasonal food creations.
Tin Cannon Brewing has 9-12 craft beers and their own non-alcoholic root beer on tap. They don't serve food but periodically host food trucks, and encourage visitors to bring their own food if they'd like, or order from neighboring restaurants who deliver directly to the taproom. Trust me when I say, these guys know good beer! Flights, pints, or growler fills, you are going to love what they are doing at Tin Cannon.
BJ's Restaurant and Brewhouse has a variety of handcrafted, award-winning beers on tap, created by passionate and very talented brewers. They have 11 award-winning signature beers and cider, as well as over 10 limited-time seasonal beers that are released throughout the year. And if you get hungry, they have over 120 items on their menu so there's a good chance they'll have something you'll like.
MurLarkey Distilled Spirits makes handcrafted, small batch, and award-winning spirits. They distill an array of spirits including gin, vodka, several whiskeys, and even a variety of infuse whiskeys such as cinnamon, orange, coffee, and cocoa infusions.  All their spirits are handcrafted and small batch, using raw, all-natural, locally-sourced ingredients and 100% natural fruit and botanical flavoring for infusions.
Farm Brew LIVE– An 8-acre campus that features 2 Silos Brewing, craft food from The Pit BBQ and Beer Garden and La Gringa Food Truck, and live, local music on a huge outdoor stage! There are also bocce courts, cornhole, firepits, and lots of outdoor seating! Soon it will also include The Black Sheep whiskey + wine + noshery located in the historic Thomasson Barn that will feature 2 bars, ample seating both inside and out, and a menu locally sourced from local farms.
KO Distilling– This craft distillery prides itself on producing high quality, handcraft whiskey's and gins. They also produce a double-distilled, unaged whiskey they call Virginia Moon White Whiskey. It's made with 60% wheat, 30% rye, and 10% malted barley. And the taste? Well, you'll want to try it for yourself.
Heritage Brewing– Their mission is to not only brew the best beer possible, but also; live for one another, serve our fellow countrymen, craft with pride, and wherever possible, give back to those in need, especially those who have given everything for their country.
​Through this mission we brew flavorful and bold beers that showcase our pride and embolden our customers to share in our dream. With this in mind, they have partnered with The Unquiet Professional to help give back to those who have paid the ultimate price for our country, and provide opportunities for their gold star families.
They have a wide variety of handcrafted beers that include a barrel aged series with beers such as a brandy barrel aged IPA, a tequila barrel aged wheat ale, and a Scotch ale that was aged in a barrel that was previously used to age gin, whiskey and red wine!
BadWolf  Brewing takes great pride in crafting unfiltered and unpasteurized beer with all natural ingredients and a taste that is second to none. Six carefully crafted beers on tap that are constantly changing. You could have a new favorite every time you stop in.
Aroma Wine Tasting is a tasting bar run by Morais Vineyards & Winery. They serve the same wines that are served at the winery with a slightly different atmosphere. With 9 different wines available for sampling, if you enjoy a good wine, you should stop by.
Public House Kitchen & Brewery. The Chef and Master Brewer work closely together and their passion for great food and great beer could not be more obvious.  They go to great lengths to pair their fresh farm-to-table food offerings with their in-house, hand craft beer in a way that gives their customers truly exceptional flavor pairings.
Sinistral Brewing Co is a seven-barrel brewery located in Historic Downtown Manassas that describe their beers as having personalities inspired by their extraordinary children. If the source of their inspiration is anything like the product of the inspiration, they must be truly exceptional children.
Have a seat in the bar, patio or lounge, order one of their hand-crafted beers, use the free wi-fi, play board games, or watch TV and relax. If you get hungry, you can bring your own food, or order food from several local eateries that deliver to the taproom.
Eavesdrop Brewery has partnerships with local chefs, farms, and brewers from across the nation. These partnerships allow us to bring food, farm, and beer together in one location that's easy to get to, but hard to leave. At Eavesdrop they boast the largest urban hop gardens in the Mid-Atlantic, and also grow apple trees, berry bushes, and other ingredients, which they use in their beer and food projects. Their tasting room was at one time a loft for racing pigeons! They also have a rooftop bar with a marvelous view of the gardens.
A little ways off the trail to the north, The Winery at Bull Run is located next to the Manassas National Battlefield Park, and is a working farm vineyard that not only crafts some fine Virginia wines, but pays homage to the history and preservation of 19th century rural Virginia.
A short distance to the south of the trail, Effingham Manor Winery has a wide variety of wines. Located in a historic Effingham Manor in a national historic district of Prince William County, VA, with the main house dating all the way back to 1767. You can tour this idealistic setting, sample some exceptional wines, and feel the history.
There are even more places to visit, but I think you should now have a pretty good idea of what you'll find when you get here.
There is entirely too much to see, do, and sample on the Steins, Vines, and Moonshine Trail in one day, or even in one weekend. Although it might be possible to do it all in a day, you probably won't remember half of what you did, and probably won't enjoy the next day. For this reason, I would recommend several day trips, or a couple of long weekends, so you can truly experience all Price William, Manassas, and the trail has to offer.
It has been my experience that people often don't know about half of what is practically in their back yard, and sometimes visitors know more about the places we live than people who have spent their whole lives there. You don't have to travel across the country to have a world class experience. Check out the Steins Vines and Moonshine Trail. You'll be glad you did.
Cheers!