Pairing Cheese and Beer in Montana
Imagine you are enjoying a great craft beer, and you decide you would like a little snack. What's your go-to?
We all have our favorite snack foods for when we are enjoying a beer. Everyone knows beer goes great with pizza, nachos, potato skins, and cheese fries, but why is that?
The common element for many of our favorite "beer snacks" would seem to be cheese. And as everyone knows, cheese, just like bacon, seems to make nearly everything better. So why not pair cheese with beer?
While in Great Falls Montana for the 2019 Beer Now Conference, Cheeses of Europe and the Montana Brewers Association teamed up to present a beer and cheese tasting, to showcase just what a great combination beer and cheese can be.
Now I am NOT a cheese expert, just a cheese enthusiast. My palate is not overly sophisticated, and in fact it could be described a simple. But I like what I like, and live by the moto: If you don't like it, don't eat or drink it!
I do believe in food and beer pairings, and believe that some beers definitely go better with certain foods (and some beers with nearly everything). However, I got burned once by an article that insisted that beer floats were amazing. But after a trip to the store for several different flavor ice-creams and a variety of beer and then trying the recommended combinations I decided that "beer floats" were a cruel joke and that I had been duped. For that reason, I generally approach things like this with a bit of skepticism.
So, when Cheeses of Europe and the Montana Brewers Association paired six different cheeses from Europe with six different hand-crafted Montana beers, I admit I may have been a little skeptical. Fortunately the results were quite tasty.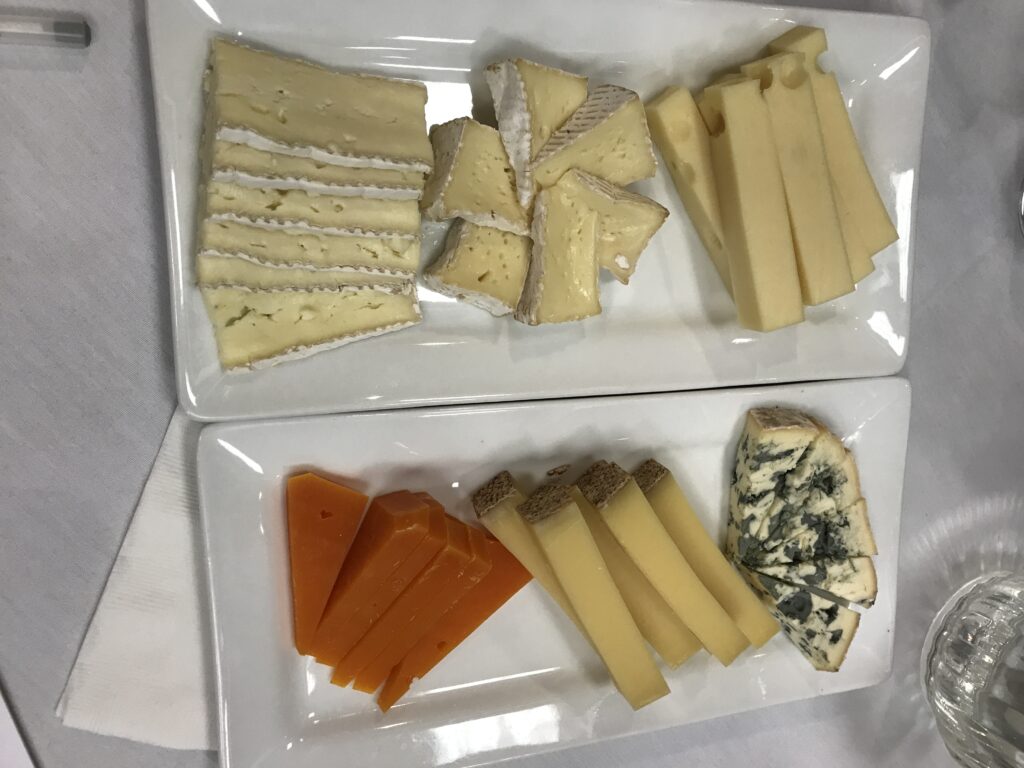 First, they paired a Triple Crème with a Saison, brewed by Philipsburg Brewing, which was aged in a Chardonnay barrel. This cheese, containing over 75% butterfat blended seamlessly with the tart, tangy fruitiness of the Saison. While very good on their own, the flavors came together to create something that was even better than the sum of its parts.
Next, a Camembert produced in Normandy was paired with a Bramble Berry Sour brewed by Mighty Mo Brewing. The earthy, mushroomy flavors of the Camembert with its creamy texture, were the perfect complement to this kettle soured ale with its mix of tart sweetness and undertones of blackberry and citrus.
They then paired an Emmental cheese with a Bichon Saison brewed by Vizsla Brewing. This Emmental, made in France, was very similar to a Swiss cheese in color, texture, and even had 'holes'. It had a faintly nutty flavor, and went well with the low hoppy profile and citrus flavor of the Bichon Saison.
The next pairing was a Mimolette cheese and Dos Goatees Doppelbock brewed by Red Lodge Ales. This cheese had a deep orange color and very firm. Now remember, I am not a cheese expert. And although I did like this cheese, it was kind of hard, and felt kind of waxy as I chewed. The Doppelbock was very good, and the flavors of the beer did seem to complement the cheese, but I didn't feel like they blended together the way the other cheeses and beer did. The flavors didn't build on each other or come together so much as stand side by side.
Next a French Comtè was paired with Midas Crush IPA brewed by MAP Brewing. The Comtè also had a firm texture, but softened as it was eaten, and had a faintly nutty flavor, with a hint of fruity sweetness, which matched well with the hoppyness and notes of orange and grapefruit of the Midas Crush IPA.
Lastly, a Fourme d' Ambert blue cheese was paired with a Big Belt Weizenbock brewed by Lewis and Clark Brewing. Personally, I love the creamy tartness and slightly salty flavor of a blue cheese, and this one was quite good, and blended beautifully with the sweetness of the caramel flavors of the malts in this strong dark wheat ale.
I have to say this was a very informative experience, and while I have always thought beer and cheese went well together, I did gain a new perspective on the way characteristic flavors of different beer styles interact with the flavors of a variety of very flavorful cheeses.
Maybe this fall during a football game I'll try switching out the of wings for a cheese plate. I'm thinking Bree would go nicely with a good Saison.